Have you been looking for easy pre-prepared snacks for cooling off in the warmer months?  Spend most of your day out in the hot sun and in need of more than a little shade and water to refresh yourself?  Here are just a few of our favourite quick and easy summer snacks!
Frozen Fruit!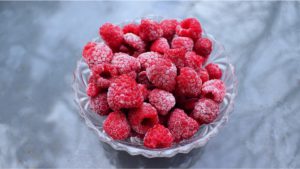 Frozen fruit is possibly the easiest and most refreshing snack while still being absolutely delicious!  There are several fruits that make a great frozen snack so theres something for everyone.
Our personal favourite for a hot day snack is red grapes.  It doesn't get much simpler than putting some fruit in the freezer to take out on a hot day.  They're healthy, tasty and a great way to cool off!
If grapes aren't your cup of tea then there are plenty of other options as well!  Raspberries, cherries, and blueberries tend to be a good alternative to grapes.
Juice Popsicles! Such Easy Summer Snacks!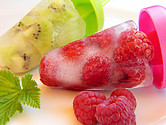 While often containing slightly more sugar than plain fruit juice popsicles can still be a tasty and relatively healthy way to cool off.  Any popsicle container will do, just fill with juice, add a popsicle stick and freeze.  If you want a little extra flavour and crunch you can add a few pieces of real fruit in as well.  These are fun and easy to make while also being super enjoyable on a hot summer day!
Fruit and Veggie Trays!
Vegetables can be sliced ahead of time to make an easy snack to pull out of the fridge when you're looking for something cold, fresh, fast and nutritious.  Any vegetables can be used but it is often nice to have a variety.  Cucumbers, carrots, bell peppers, and broccoli are often a good combination.  If you're looking for something sweet as well a second tray of fruit can be prepared.  Watermelon, strawberries, blueberries, melon, mango and pineapple are all great additions to any fruit tray.  It is often best to have some mini skewers or forks on hand when going with a fruit tray as they tend to be much juicer and stickier than most vegetable trays.
Have another favourite summer snack?  Leave it in the comments so that everyone else can enjoy it too!
Interested in starting a new hobby and side hustle?  Check out our article on Online Entrepreneurship!
Ready to dive right in?  Please your our affiliate link to get signed up for some free training and see if it's for you!